A dazzling city-wide interactive laser light installation
International Laser Display Association Award 2021
Laser Light City has been a huge success story; social media is flooded with incredible photos of each host city every time it goes out. The interactive nature of the project engages audiences from every age group and the most recent outing in Newcastle achieved an unheard-of 95% audience approval rating.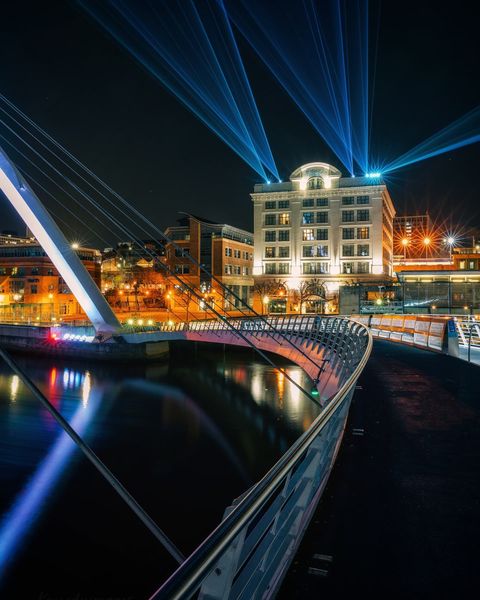 Spectacular
Installed on landmarks throughout the city, multiple lasers fire beams into the sky.
Controlled via smartphone
The colours, patterns and positions of the lasers can be changed at will by the public via your smartphone. Laser Light City is such a rare and memorable experience – when else in your life would you have the power to control massive and dangerous lasers with a single swipe on your phone?
The work appeals to a wide range of ages and we've seen a diverse range of people easily taking control of the lasers with the intuitive software.
Testimonial
"Laser Light City gave Light Night Leeds the fantastic opportunity to adapt during a pandemic and continue to present world-class innovative light art to our audiences... We would not hesitate to recommend Seb Lee-Delisle and Laser Light City to other towns and cities in the UK and beyond!"

Abbe Robinson – Artistic Director, Light Night Leeds
Booking enquiries
Now taking bookings
Laser Light City is highly configurable to fit many budgets and is now available to book for your event. If you want to find out more, please email us at bookings@seblee.co – let us know who you work for and possible dates/locations and we'll send you a PDF brochure.
Laser Light City News