The digital fireworks display controlled by you
Note: this is the original version of our new and even brighter and better fireworks project – Electric Laser Flares
"Brilliantly joyous and playful work… saw so many big smiley faces"

Kath Davies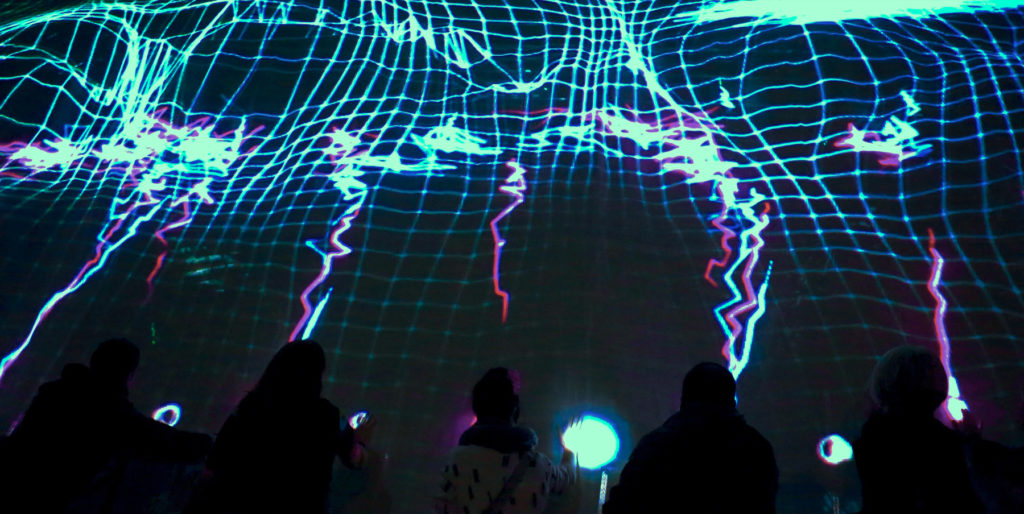 PixelPyros is a large scale light installation from award winning artist Seb Lee-Delisle. Computer generated fireworks are projected onto a 20m wide screen using state-of-the-art projectors and lasers. But unlike most firework displays, you don't merely stand back and watch – each firework is set off by members of the audience.
Motion sensors are placed along the bottom of the screen and can sense when you move your hand across them. Up to thirty people can participate at once, and each show is uniquely choreographed by the crowd.
"I love to encourage people to rethink what technology can offer, PixelPyros shows how we can use computers to unite people in a shared experience."

Seb Lee‑Delisle
The show is made up of several different scenes, each with a different musical theme and style; some fireworks are realistic simulations but others are fantastical digital creations that can't be done with real pyrotechnics. The show is roughly 30 minutes long and can be run as many times as required.
Social media reactions
"…Very impressive stuff!" – @danatello
"To the question "are you ready to play" a Definite yes!" – @KatieLusty
"Incredible turnout in Bournemouth for @PixelPyros tonight. Queues going off to the horizon." – @paul_hayes
"Thanks @seb_ly for bringing the excellent @PixelPyros to our neck of the woods. It was fantastic! " – @TimHarbour
"PixelPyros just made mine and the hubbies night #asteroids #fireworks #gobsmackinglybrilliant @folhudds #pixelpyros" – @northernwife
"OMG @FOLHudds is amazing this year – check out the 50ft digital fireworks – kids loving it!!" – @annemarie_1971
"Aaaand, it's just dawned on me that @seb_ly is one of the magicians behind @PixelPyros. Salute to that man! We were well impressed." – @mattnortham
"It's fab. I've never seen anything like it before. The children loved it. It's so different." – @Relda, of Mirfield,
"Pixel Pyros are definitely my personal highlight of @FOLHudds this year! Really recommend you check them out…" – @IainRoss91
"@seb_ly @PixelPyros the show last night was amazing! loved every min, totally fascinating!! =D" – @pixie_mistify
"Nice work @seb_ly… Outstanding…" – @haames
"Saw @PixelPyros this evening and loved it. Better than actual fireworks? Quite possibly; they're certainly safer—and interactive!" – @paulrobertlloyd
"@PixelPyros rocked my socks off last night #digital #technology #brighton" – @nicolakeene