New for 22 – A collection of sparkling laser-rendered vector arcade games that can be installed across a site bringing everyone together in a shared collaborative playful experience.
Our Art Director Seb Lee-Delisle has been making video games his whole life, and this project is an homage to early arcade machines and for many will evoke their earliest memories of digital interaction.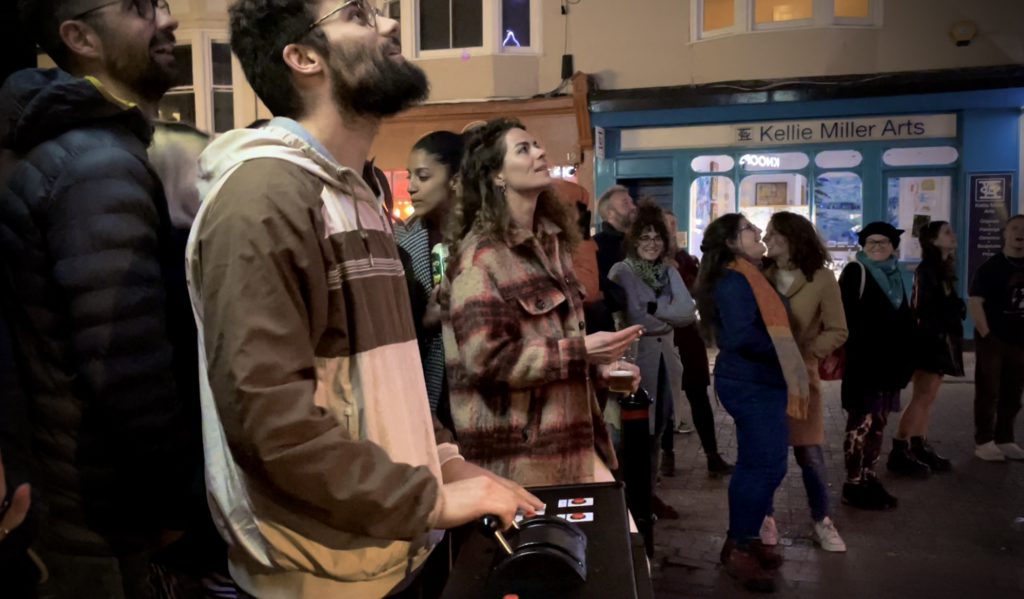 These machines utilised a special type of cathode ray tube known as the "vector display" that renders graphics by moving the ray around to draw neon-bright sharp geometric lines and shapes (unlike common TVs of the era that draw the image in a series of horizontal scan-lines).
Lasers are the perfect medium to recreate the memory of these images and scale up this type of vector display – the laser beam moves round and draws shapes in much the same way as the cathode ray does in the originals.
Infinitely configurable
This is probably our most flexible project to date and can be customised to fit almost any space or budget. Please get in touch if you would like to know more.
Multiplayer Laser Asteroids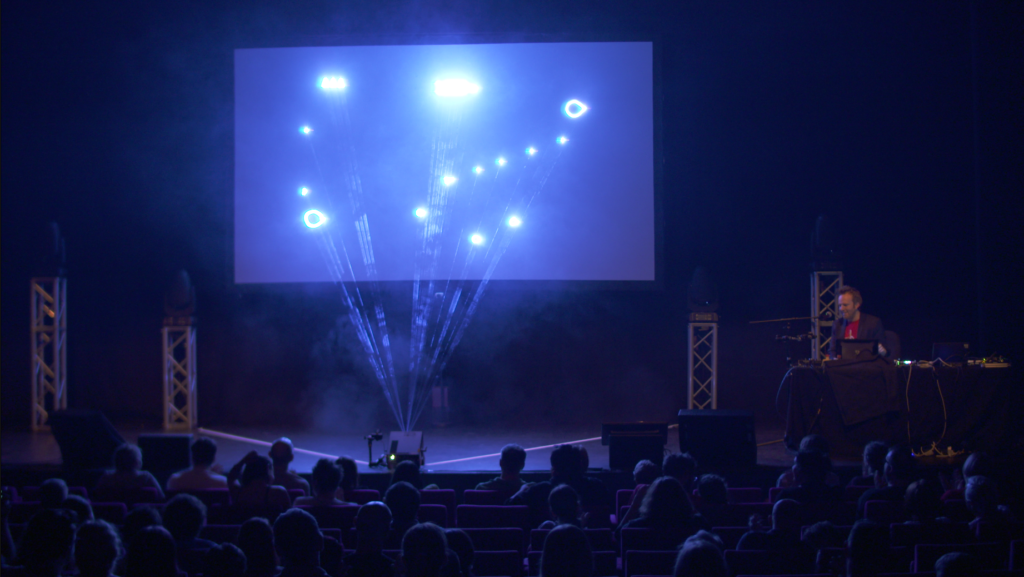 A reimagining of what can arguably be described as the first blockbuster arcade game. You're faced with three rounds of asteroid fields, each slightly faster moving than the last, and a time limit in which to clear it. It's a collaboration – players work together and can't shoot at each other.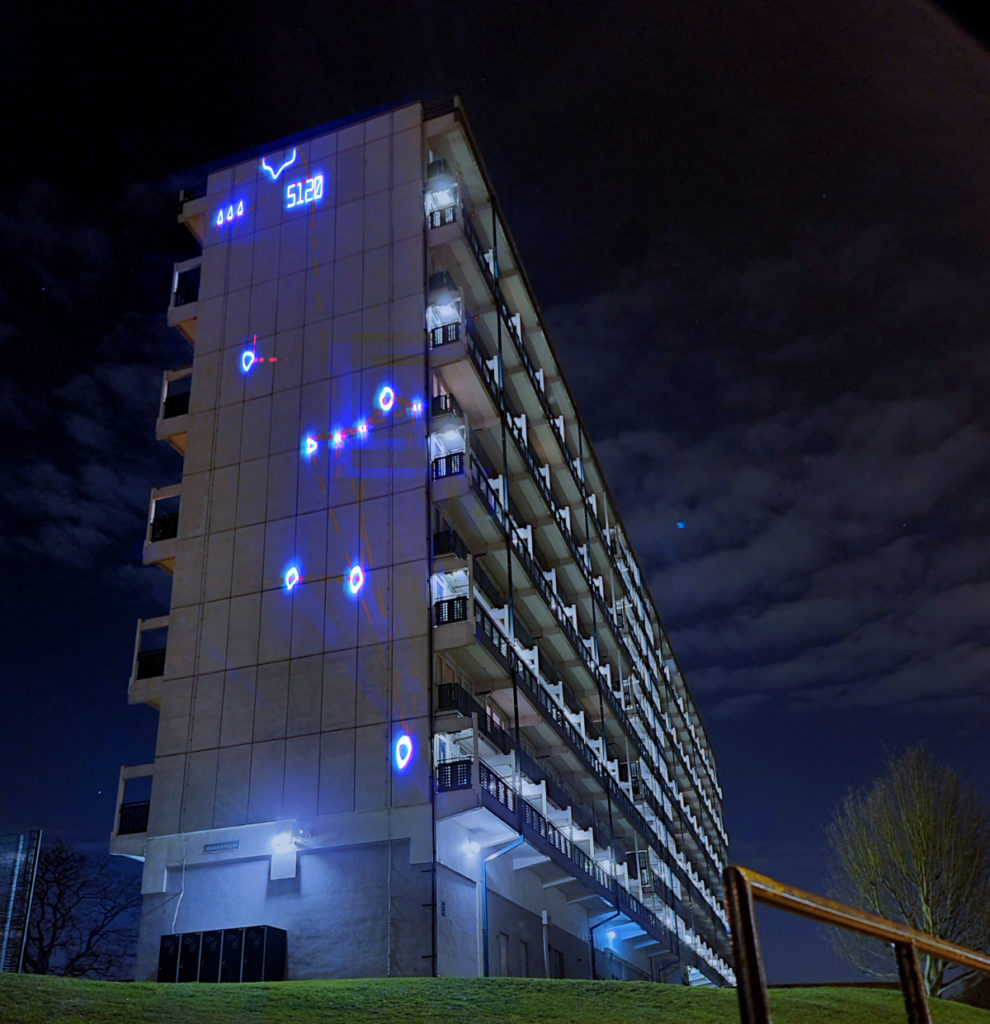 It can be projected on to a screen, wall or building and can accommodate up to 20 players.
Laser Lunar Lander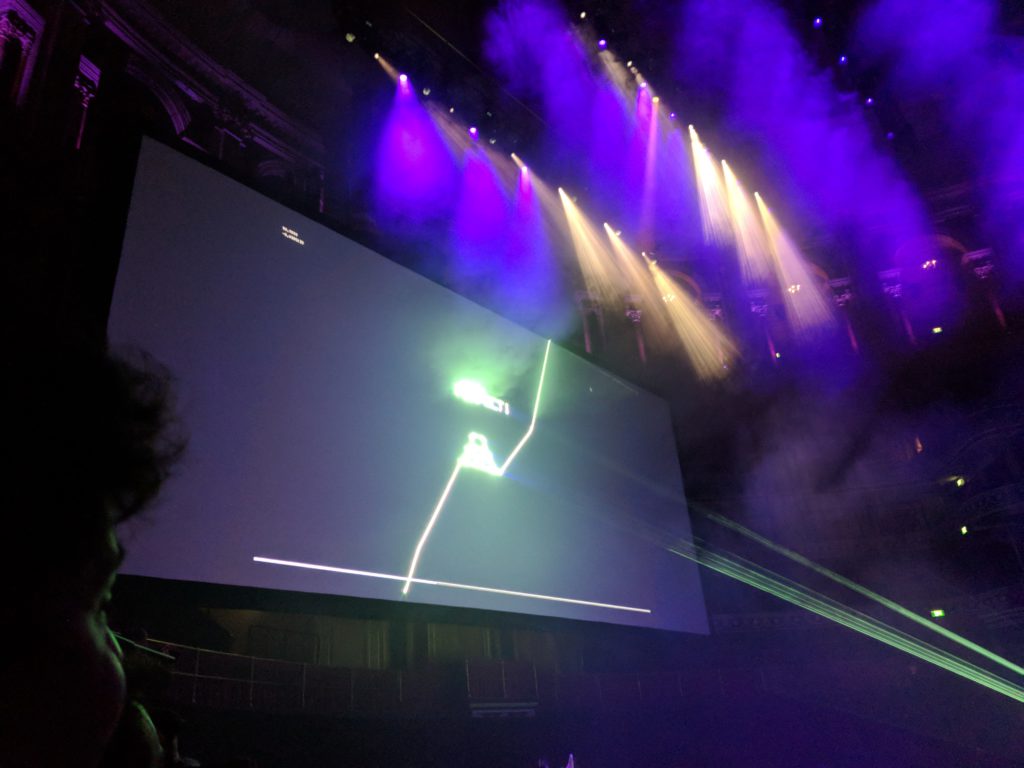 A laser rendered copy of the classic 1979 arcade game. The objective of the game is to land your Lunar Module safely on the moon and is one of the first depictions of real-life physics in a main-stream video game.
Our version features a perfect replica of the thrust controller from the original arcade game. It was first presented at the Royal Albert Hall at Cosmic Shambles in 2018, where Rusty Schweickart – the actual Lunar Module Pilot from Apollo 9! – played the game live on stage and demonstrated that, although fiendishly difficult, the game is not as hard as the real thing.
Lunar Lander has featured in Seb's work before, most notably for "Lunar Trails" which used a 3m wide drawing machine to plot the trails of the craft on the wall as members of the public played the game, recreated there in a full size arcade cabinet.
Laser Dance Party
This is a laser remake of the dance rhythm style games from the turn of the millennium. The genre is an important milestone for video game history and we're giving it a gorgeous laser rendered graphical make-over.  
Multiple interactive stations can be provided comprising an arcade quality interactive dance floor and some low staging. Alternative button controls will be available to increase accessibility. 
The scrolling arrows that indicate which footpad to step on will be laser projected onto the wall in rainbow colours. In addition, as the players perform the moves, their outline silhouette will be captured by 3D cameras and drawn with another laser as part of the visuals.
All players will dance to the same song at the same time, even though they all have separate views in front of them.
The dance game will be developed in collaboration with Abby Shum, an up and coming British Asian laser artist, as part of our work to encourage a wider diversity within the laser industry.